Episode 4: Sam Wyche | Former NFL Head Coach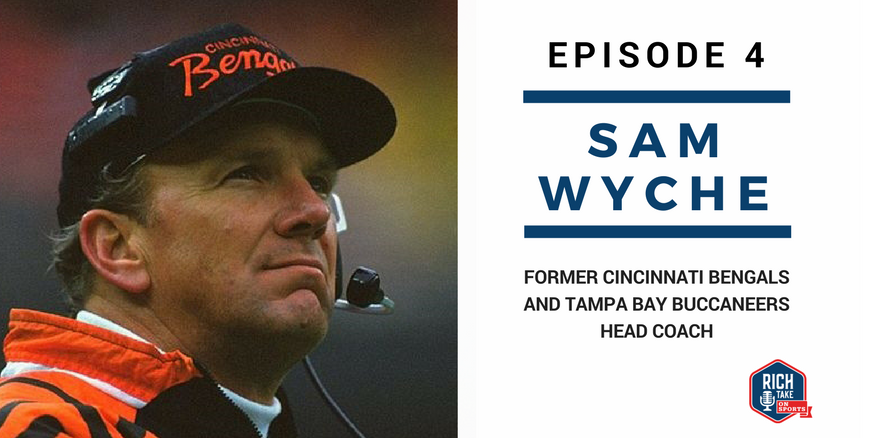 Episode 4 features former NFL Head Coach for the Cincinnati Bengals and Tampa Bay Buccaneers.
Sam Wyche shares his journey into sports that started with the competition between him and his younger brother.  His brother, Bubba was actually the better athlete however, Sam was still able to walk-on at Furman University and played QB.
His first entry to coaching football was as a graduate assistant at the University of South Carolina working with Lou Holtz who was a defensive backs coach.  This assignment was temporary as he still wanted to play and eventually earned a position with the Cincinnati Bengals and ultimately played in a Super Bowl as a member of the Washington Redskins.
After, he retired from playing Sam joined Bill Walsh's staff in San Francisco as his top assistant and helped guide the 49er's to a win in Super Bowl XVI.  His opportunity to be a head coach came shortly after that Super Bowl win as he accepted the position at Indiana University.  Only staying one year, Sam was convinced to become the Head Coach of the Cincinnati Bengals.
At Cincinnati, Sam led the Bengals to one of the most potent offenses in league history at the time and earned a spot in Super Bowl XXIII against his best friend Bill Walsh who was still with the San Francisco 49er's.  A narrow loss in the last 35 seconds still haunts Sam today and he eventually moved to Tampa Bay to become their head coach.
Turning his career to broadcasting, Sam enjoyed the opportunity of working with the likes of Marv Albert and Kevin Harlan however, a medical malpractice issue which damaged is laryngeal nerve ended his broadcasting career.
Sam experienced another medical issue and was only given hours to live before he received a heart transplant in September 2016.  Today, Sam is trying to create public awareness for organ donation.
The Weekly Words of Wisdom:
If you do not go after what you want, you'll never have it.  If you never ask, the answer will always be no.  If you do not step forward, you will always be in the same place.