Episode 8: Daina Falk | Hungry Fan Founder and Creator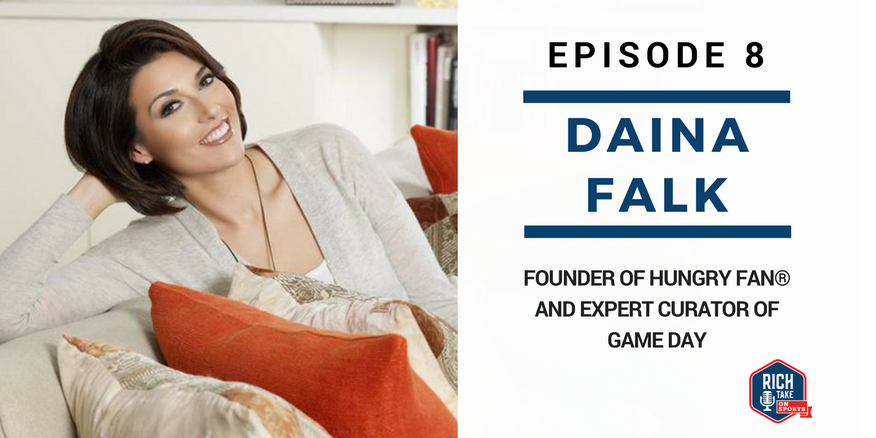 Episode 8 features Daina Falk, founder and creator of Hungry Fan which is a sports lifestyle brand that curates the sports fan's Game Day experience. From food & drink to gear, traditions, Game Day culture, and an insider's look at teams & athletes, Hungry Fan makes a Game Day gathering as exciting as the game itself.
Daina has a unique connection with sports and you will know that connection if you know the last Falk and her dad a legendary sports agent.
Follow on Twitter:
Follow on Instagram:
Provide feedback via email at richmond@richtakeonsports.com or visit richtakeonsports.com.
Daina shares that her married life isn't much different than before but things are going well. She tells the story how she really started her sports and food love in the womb as her parents were in Europe with some of her dad's clients and her mom was pregnant.
She played soccer and mostly tennis growing up but her high school was not a big sports oriented high school and she wanted to experience a true sports fan environment so she applied to one school – Duke and became a devoted Cameron Crazy.
Her dad, David Falk, gave her advice not to follow his footsteps by becoming a sports agent and she took his advice but wanted to continue with a career in sports.  Her love for food and sports lead her to create and found Hungry Fan.
This led to her publishing her first cookbook, The Hungry Fan's GameDay Cookbook which incorporates many of her own recipes with contributions from many of the biggest names in sports today.
Sports for her has been a way for her to connect with people across the US and she truly believes she has a connection or some in common with everyone.  Her words of wisdom: No just means not at this time.