Episode 5: Dan Radakovich | Clemson University Athletic Director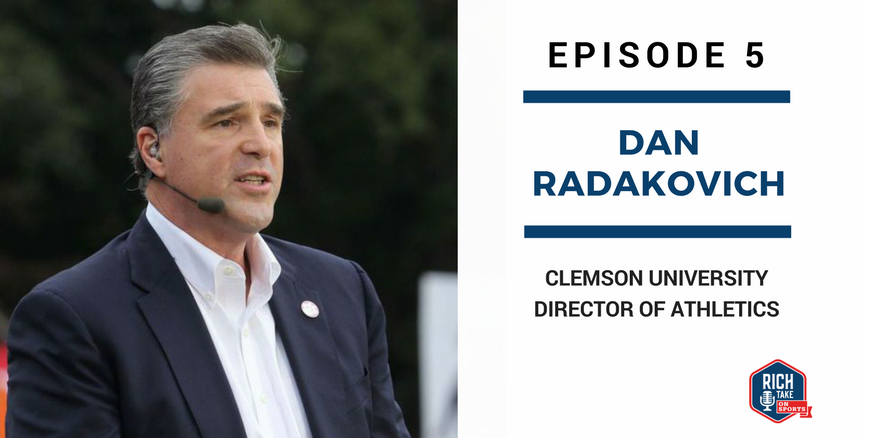 Episode 5 features guest Dan Radakovich, current Athletic Director for Clemson University.
I've received some great feedback from last week's episode with former NFL head coach with the Cincinnati Bengals and Tampa Bay Buccaneers Sam Wyche and his story of the gift of life he received through organ donation as he received a heart transplant after the doctors only gave him a few hours to live.  Definitely, something you should listen too.
The feedback means a lot so I welcome the opportunity to connect. Please follow me on Twitter: @richtakesports
Email me: richmond@richtakeonsports.com
And don't forget to visit our website richtakeonsports.com and there you listen, download and even subscribe.
Our guest this week is one of the most influential Athletic Director's in all of sports and that's Dan Radakovich, the current AD at Clemson University.  You'll hear in his story that Clemson is not the only school he's been associated with that has experienced some significant success.
Dan grew up in western PA outside of Pittsburgh in the steel mill section. Followed sports because it was a great time for the city of Pittsburgh with the Steelers and the Pirates.
Played football growing up and had one sister and sports were not a big part of his family it was more of his passion.
Attended Indiana University (PA) and later received his MBA from the University of Miami and there he eventually began his career in athletic administration after spending time in the business world.
Had jobs at Long Beach State, University of South Carolina, American University, LSU, Georgia Tech which led him to become the 13th AD at Clemson University.
Honored to be a part of the winning program at Clemson and with Coach Dabo Swinney.  Also very honored to be a part of the inaugural College Football Playoff Selection Committee.
Weekly Words of Wisdom:
"Courage is not the absence of fear, but rather the judgment that something else is more important than one's fear. The timid presume it is lack of fear that allows the brave to act when the timid do not. But to take action when one is not afraid is easy. To refrain when afraid is also easy. To take action regardless of fear is brave."  – Ambrose Redmoon