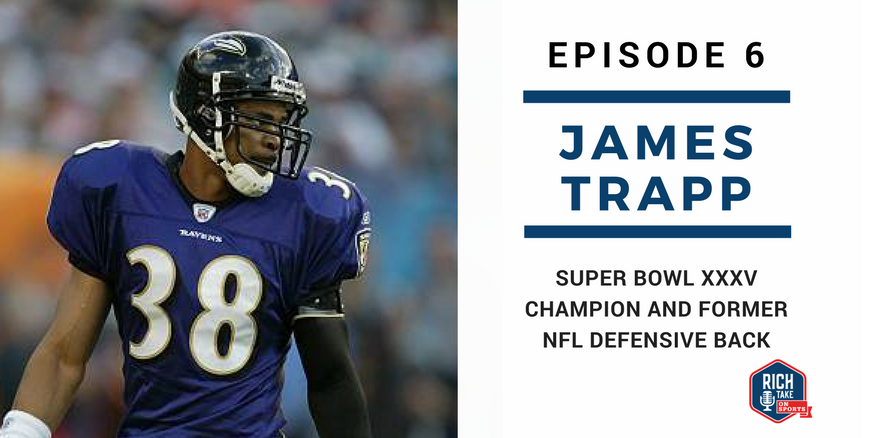 Episode 6 features James Trapp, Former NFL Cornerback with the Oakland Raiders and Baltimore Ravens. Our guest in this episode is former Oakland Raider and Super Bowl champ with the Baltimore Ravens in Super Bowl James Trapp. Now in order for you to stay current and not miss any future episodes you can subscribe via…
Listen to the full episode
Rich Take on Sports
11/30/-0001
We all know that there is a direct connection between the sports we watch and our daily lives. Learn more about how this connections affects your daily life by listening to this great podcast. Richmond asks some great questions of his guests.
Great sports conversations
11/30/-0001
Really enjoyed the conversation about what's under the tip of the iceberg bearing the guests backgrounds
WOW!
11/30/-0001
Awesome podcast! This goes deep into the mindset, strategies, and techniques that make athletes great at their sport. A lot can be learned from this show. I enjoyed episode #50 with Woody.
Great take on an old topic!
11/30/-0001
I love listening to these fresh takes on sports. It makes watching games so much more exciting when you have all of this information too. Great podcast, loved listening to it!
Great podcast about sport, people and life
11/30/-0001
Great podcast, hosted by a real sports lover and professional. Richmond is doing magic in combining fascinating interviews with great sports people and some interesting insights about life, excellence, dedication and more
My go-to sports podcast!
11/30/-0001
So... admittedly I've always had a hard time getting into sports but feel so left out in sports convos. This show puts a unique spin on sports by making sports more relevant to my daily life and now for the FIRST time ever, I can join sports convos! I wasn't expectign to like sports as much as I do now, so thanks Rich!
The BEST Take on Sports Around:)
11/30/-0001
I mainly consume sports through "30 for 30" documentaries because I LOVE a good story. That's why I love Rich's take on sports in his outstanding podcast. There is a reason we are so captivated by our favorite team and high stakes games and great sports rivals. These kinds of narratives have the power to bring people together and form lasting bonds. My brother is a recent Clemson grad and I had the pleasure of going to a game during their championship season. It's a memory my brother and I will never forget. I was so excited to hear Tim Bourret's discussion. I can't wait to glean more insight from Rich and his stellar lineup of guests!
Great Conversational Content
11/30/-0001
Rich does a great job of talking to me as if he and I were sitting down to discuss an upcoming game. Kick back, have your drink of choice, and give Rich a listen.
Good for families who love sports
11/30/-0001
I love to listen to this so that I can stay in the loop with my husband and kids who love sports.
Sports Nut? Here's your podcast!
11/30/-0001
You're either a sports nut or you're not. You know who you are – don't deny it. Now, I know you probably consume lots of sports content already, but you're going to need to make some room for this gem of a show. You can thank me later.